The main aspect of any organization is brand building and promotion. Promotion can happen
both online and offline, but as the pandemic has hit, offline promotional activities are no longer
encouraged. So, for this everything now has turned to online, including promotional activities.
Be it giveaways, or contests, events and exhibitions, etc. something or the other is always there
as a marketing strategy out there on social media, on the internet. They are excellent ways to
connect with the public on a more personal level. Particularly in today's digital age.
If you want to leave a lasting impression, you must provide more than just a memorable
dialogue. You should also provide promotional goods for event attendees to remember you,
prizes for contests, and so on. To put it simply, this is significant for two reasons: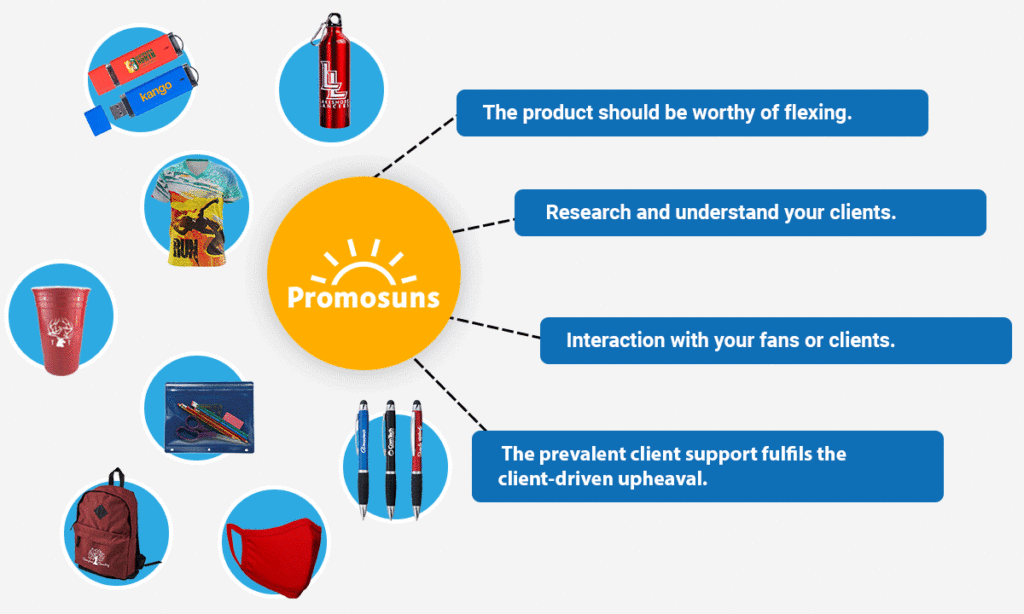 • Promotional products encourage individuals to spread the word about your company to
their friends and family.
• They urge others to post nice remarks about you on the internet and social media.
They are critical for long-term business expansion.

Let us then check out what these organizations may give out in their giveaways, or contests, or
rather what promotional products could they use in their marketing activities. So, here is a list
of those trending promotional products :

• Bottles.

Bottles for promotional activities is a very good idea, as houseware is an important thing and
people spend much on good quality housewares. People also want those products which they
can "actually use," and therefore, recyclable drink bottles, for example, are an excellent
alternative for promotional merchandise.

• Stationery items.

Stationery items like a diary, notebooks, notepads, pens, etc. are some of the outstanding
choices as promotional products. They are useful, robust and handy, so everyone appreciates
them.
Try including notebooks and journals in your giveaway bundle to accomplish this. They are
not only useful, but they also demonstrate a greater amount of commitment towards people.
And that is certain to make a bigger impact.
For organizations trying to connect at-home users via online events or promotions, keep in
mind that stationery is one of the best promotional goods to hand out due to its robustness and
durability.

• Cups or mugs.

Using essential items such as tea or coffee cups or mugs as promotional products is a very good
and popular idea. As same as bottles, it is something that people can "actually use."

• Office items.

Work from home is the new office trend after the pandemic hit. So, as promotional products,
one could give office items like a pen stand, wooden coaster, mobile holder, custom cable tags,
etc. which would also give them the office vibes at home.

• Electronics.

As promotional products, electronics are an intelligent idea. You have multiple options ranging
from headphones to digital watches or even mobile phones. You can also use
wireless/Bluetooth headphones or conventional headsets or speakers, etc. which would attract
a lot of people.

• Clothing.

Various clothing items like caps, hats, t-shirts, etc. can be given as promotional products. If
you want to quantify the efficiency of your giveaway gifts, promotional clothing is great. This
is because it gives twice the advantage. For starters, high-quality apparel is valuable, therefore
it will provide an excellent overall impact. Second, because receivers will be wearing the items
daily, it enables on-the-go promotion.

• Bags.

Bags are convenient items and we require them most of the time. Travel products such as bags
are always a hit amongst the people. Be it school bags, trolley bags or any kind of another bag,
it is a very useful product no doubt as it is reusable and can be taken anywhere. Therefore,
promotional bags are an intelligent promotional product.

• Face masks.

With the pandemic hitting us hard, face masks are an incredible promotional product. Almost
all people wear face masks now and has now become a necessity, so if you give out masks it
will not only be a clever idea but also a thoughtful one.

• Sanitisers, wipes or paper soaps.

Since the onset of this pandemic, promotion of products can be enlightened to the people
through the means of sanitisers, wipes and other essential items that are used frequently during
this pandemic to ensure safety and hence people would notice the promoted brand and get
curious to try out the products which increase the chances of getting new customers as well as
gaining long term loyal customers.

What other strategies could be implemented?

Purchasers are looking for something beyond quality items and administrations nowadays.
They are searching for brands that line up with their qualities. So giving eco-accommodating
limited-time products as a blessing won't just assist to exhibit your organization's morals, yet
make your image more trustworthy and subsequently agreeable.
By developing fervour and making brand ambassadors, giveaways have been a significant
instrument for making virtual events a triumph.

Virtual giveaways additionally assume a much greater part in adapting a brand, while assisting
clients with interfacing them. It's always essential to thank the clients for being the reason for
your success and support which in return marks the appreciation that clients pine for.
Picking special items that can be completely redone is an incredible method to market to this
development pattern. Also, as buyers keep on accepting new trends and uniqueness, don't be
hesitant to go strong & unique with your ideas for the customization of items and plans.
Individuals need to stick out so you can promote your brand as well as fulfil their wishes by
the means of customization.

Other things to take care of :

Just like the mentioned promotional strategies above, there's also a unique way to promote your
brand which not only increases the chances of revenue but also creates a strong and loyal
fanbase for the products. This can be done by turning the fans or clients into brand ambassadors
for the particular products or services that they are interested in. Though this might sound tough
and difficult to administer thousands or millions of customers to advocate your products and
services to a wider range of audience this can be done with proper planning and strategies. This
kind of marketing advocacy requires you to develop a strong bond with your pre-existing
customers or clients so that they can trust you with their time and devotion. This in turn brings
new customers thus helping you to promote and expand your brand further to reach more
success and loyal customers.

These are a few interesting points when transforming clients into brand representatives:

● The product should be worthy of flexing.

One of the most important aspects to keep in mind is that the item or service you offer should
be worth fans arranging to get their hands on. If not, it is extremely unlikely you'll have the
option to transform clients into brand representatives and it won't make any difference how
predominant or efficient your customer support is.

● Research and understand your clients.

Clients consider themselves to be remarkable & unique, therefore, additionally anticipate that
brands should consider them to be unique and special as well. Keeping up with their
expectations, the solitary way you can differentiate your clients from each other is by becoming
more acquainted with them well. When you do that, you can discuss viably with them and get
the correct data to the right objective crowd.
Think about utilizing data trackers to become acquainted with, monitor, and distinguish clients.
Tracking apparatuses permit you to follow what clients are purchasing, saying, and their buying
conduct. Whenever you have a cooperation with them, you will know precisely who they are
because they're in your framework

● Interaction with your fans or clients.

The more you collaborate with your customers, the more you'll cause them to feel like their
input is critical to you. One way brands can cause fans to feel significant is to carry them into
the "inner" group by welcoming them to evaluate new items and initiatives. At the point when
you include your most grounded allies, you're offering them a chance to allude and impart news
about your image to their connection and communities.

● The prevalent client support fulfils the client-driven upheaval.

Indeed, having a magnificent item implies you'll have the option to grab individuals' eye, yet
the adventure of another buy seldom keeps going long. What stays with the purchaser far past
the buy is how you cause clients to feel special thus wanting more and more of your products
and services. The way you handle their queries and doubts portrays the values and ideologies
that your company holds in regards to the satisfaction of the customers or clients. You can also
provide some merchandise or coupons in case you lack in fulfilling any of their problems or
queries. This way, the customers would know that you tried your best to solve their problems
and that you care about their worth with individualism, which then turns into a means of mouth
to mouth promotion with positive reviews.
So, here are the trending promotional products as well as
some extra ideas regarding how to be creative with them and set a new trend. It is no secret that unique marketing is the key to success of any company, but not every one can apply it. So, these points could be kept in consideration
for the next time you are up for any promotional activities.