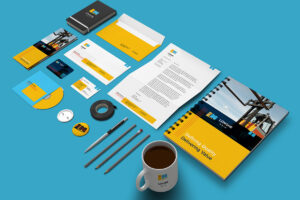 We live in a fast-paced world where many think that marketing materials are extra costing and traditional marketing methods don't work anymore. But running a business in this competitive environment where every business uses every ad campaign to advertise its products, staying unique is quite challenging. Marketing materials help you accomplish this task well. The importance of marketing material can't be put in a stanza or two. Still, we will try to figure out a way to introduce you to them.
Increases sales
Just assume that a customer calls you to enquire about your products or is about to buy from you. What will you send them in return; a visiting card or maybe a brochure of your business? But instead of just sending a visiting card, you can also send the products you use, such as a pair of pencils with your brand name, as gifts. It will not boost your sales instantly, but it'll create a bond between you and your prospects which in the future will definitely increase your sales and also give you a loyal customer.
Increases trust
Do you know that the quality of your marketing materials is often related to the quality of your products by the consumer? By providing excellent quality marketing materials, you can ensure the trust of your customers in your business. We have often heard that customer trust is the key to a successful business. Thus, make sure that you ensure this trust with excellent quality marketing products. Many companies try to save money by providing inferior quality marketing products. And in the short run, it works for them. But to stay in the market for the long run, your marketing product quality should be perfect.
Provides the first impression
Marketing materials offer the first impression of your services and products. They can answer all the questions that a potential customer can have in mind about your brand. Like, what is your brand message? What products and services do you provide? What is the quality of your products? And you surely won't want to have a wrong first impression. So, make sure that you answer all these questions perfectly. And convert the potential customers into the actual ones.
Salesforce weapons
Marketing material can be termed as sales-force weapons as they make sales happen. Build new customers. And stay connected with the old ones. Thus, in many companies' sales department is the one that handles marketing materials. And you surely won't want destructive weapons for your sales team. As these are the persons on which your business sales or we can say success depends.
Narrates your story
A story shared between two people brings them closer. The same goes for business stories. When you share your story with your consumers, it makes them feel like a part of your business. And they become a part of your business's family. But telling a story showing its vulnerabilities isn't a simple job. But market materials do this job perfectly. They can make your customers feel related to your business by sharing the art of its story with them.
It keeps you at the top of customers mind
Giving something tangible, with your business's logo or name on it, sharing what you do and why you do it keeps you at the top of your consumer's mind. Whenever they use that product, they will think about your business. And the complexity of human thoughts will benefit you as we humans can have thoughts about our beliefs. When a customer feels about your business, he will not stop there only. He will start thinking about your products and services. And everything our business does for the community. And why he should be a part of it. Make sure you are answering these questions well. Because the answers will determine the number of orders you will get.
Tell about deals and offers
Remember how we got a sketch on the back of coloring pens every time we bought a new one. And they asked us the fill in colors and posted them at a specific address. And if we win, they will send us other products of their company as gifts. At the back of that sketching, the sheet was a list of products and one or two lines of description for every product. Many of us used to get so intrigued by those products that we bought a few from them at the end. Well, this is what a good marketing material does. By telling about the discounts and deals your business is providing, it increases your sales.